Hello friends,

The friends groups from Grant, Humboldt,Mill Pond, Pulaski (Cudahy), Sheridan, South Shore and Wilson Parks are hosting the 3rd Annual Joint Parks Friends Discussion at South Shore Park Pavilion on Thursday, September 21 at 6:30 pm.

This meeting is convened to give information and generate discussions about the value of our parks and how to promote these values to Milwaukee area citizens and elected officials.

The evening will start with presentations by each friends group on activities in their respective park followed by reports from Supervisor Jason Haas, Chair of the Parks, Energy and Environment Committee; and John Dargle, Parks Director. Finally, a citizens panel of known park advocates will discuss; Public Parks: Venue for Recreation and Entertainment or Green Space for Conservation and Preservation. Meeting attendees will be given an opportunity to ask questions of the panel.

The meeting will adjourn to the South Shore Terrace beer garden to socialize and continue informal discussion.

We hope you can attend for a stimulating evening of information and contemplation.​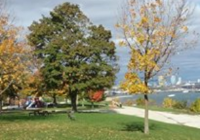 If you would like to help make a difference for South Shore Park, please join us at our next event or contact us at friendsofsouthshorepark